Asbestos analysis in an accredited testing laboratory
using Scanning Electron Microscopy (SEM) technology.
Identify asbestos with our asbestos tests for air and materials
Asbestos is used in a variety of different materials due to its advantageous physical properties such as resistance to heat, strength and insulating capabilities. Since 1999, the manufacture and use of asbestos have been banned in the UK because inhaling the fibres can lead to serious diseases like asbestosis and cancer. Hence, the majority of asbestos found in the air is dangerous. Asbestos can be released when "friable" (weak and easily crumbled) or during renovation or DIY work. With this in mind, we have developed the Asbestos Indoor Air Test so that you can know if the dust in your home contains asbestos fibres. The test is also ideal if you have undertaken reconstruction work or something similar without having checked the material in question beforehand.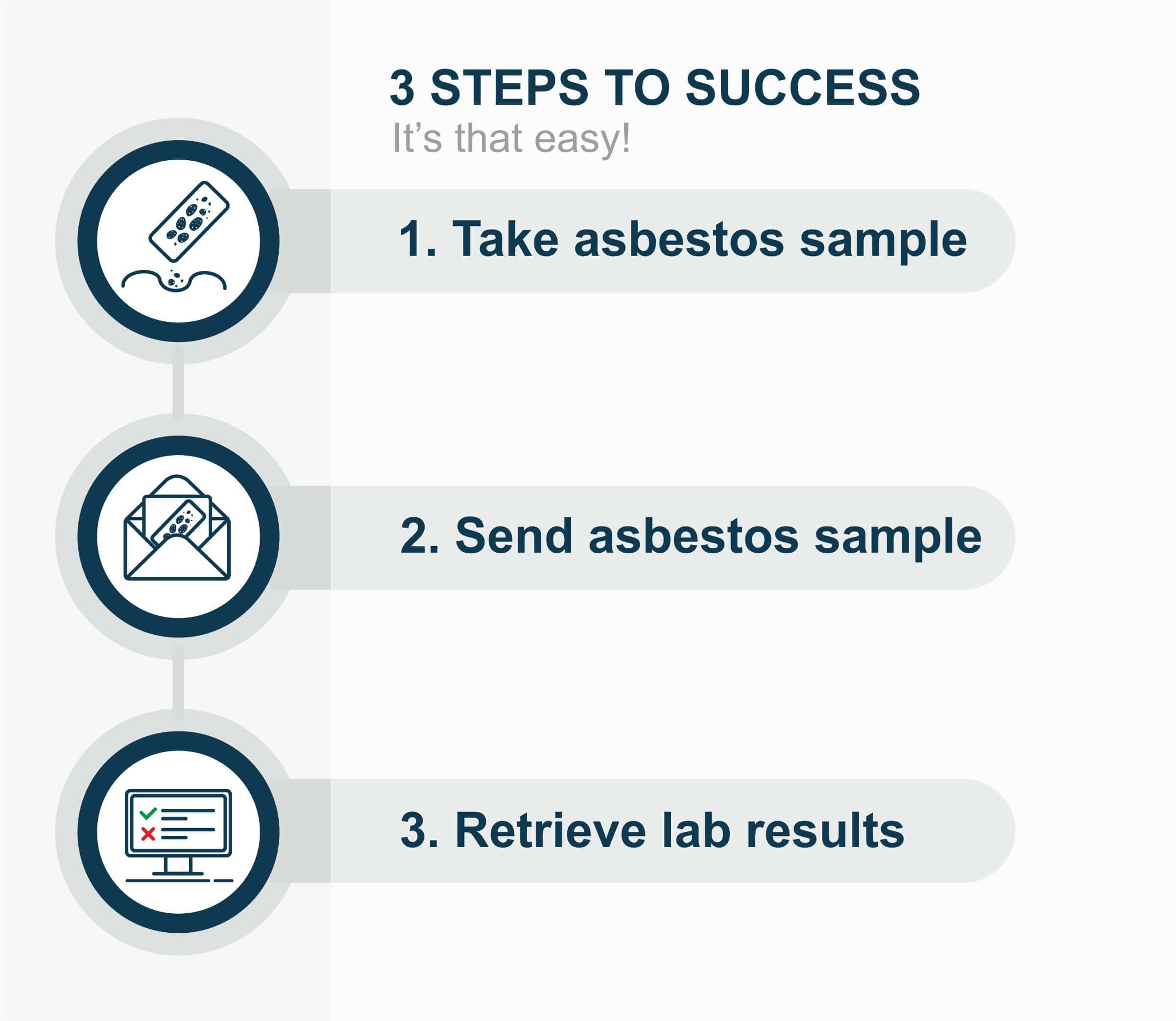 Asbestos Test - Frequently Asked Questions (FAQs)
WHEN SHOULD YOU TEST FOR ASBESTOS?
Asbestos-containing materials can turn DIY into a hazard. Private consumers should therefore test for asbestos fibres before carring out renovation work on the house. It is even more important for tradespeople to protect themselves with an asbestos test. If renovation work is undertaken on asbestos-containing building materials, there may be legal consequences.
WHAT IS THE ASBESTOS INDOOR AIR TEST FOR DUST SAMPLES?
Our Asbestos Air Test gives you a quick overview and fast assurance. Simply take a dust sample with a piece of tape, which can be done using the detailled instructions included. The particles which stick to the tape will then be examined for asbestos fibres in a laboratory.
WHAT IS THE ASBESTOS MATERIAL TEST FOR STANDARD MATERIALS?
You can test all kinds of materials for asbestos using our Asbestos Material Test. This test is ideal for both private and commercial use. You don't need any specialist knowledge when selecting the material - simply send us your sample and our experts will determine what kind of analysis the required detection limit delivers. Our expert laboratory analyses your sample using the latest SEM (Scanning Electron Microscopy) technology. Regardless of the asbestos sample you send in, the lab will test it to a detection limit of between 1% and 0.1%.
WHAT IS THE ASBESTOS MATERIAL TEST FOR SPECIAL MATERIALS?
The Asbestos Test for Special Materials analyses your samples for man-made mineral fibres such as slag wool, basalt wool, stone wool and glass wool, as well as for asbestos-containing fibres in materials like Artex, to a detection limit of as low as 0.001%.
How is the asbestos analysis carried out?
After you have completed your order, your asbestos test kit will be dispatched within 24 hours. It contains everything you need to take the sample.

After you have taken the sample, simply use the return kit which we have prepared for you and send your sample straight to the accredited asbestos testing laboratory. Here your asbestos sample will be analysed by specialists.