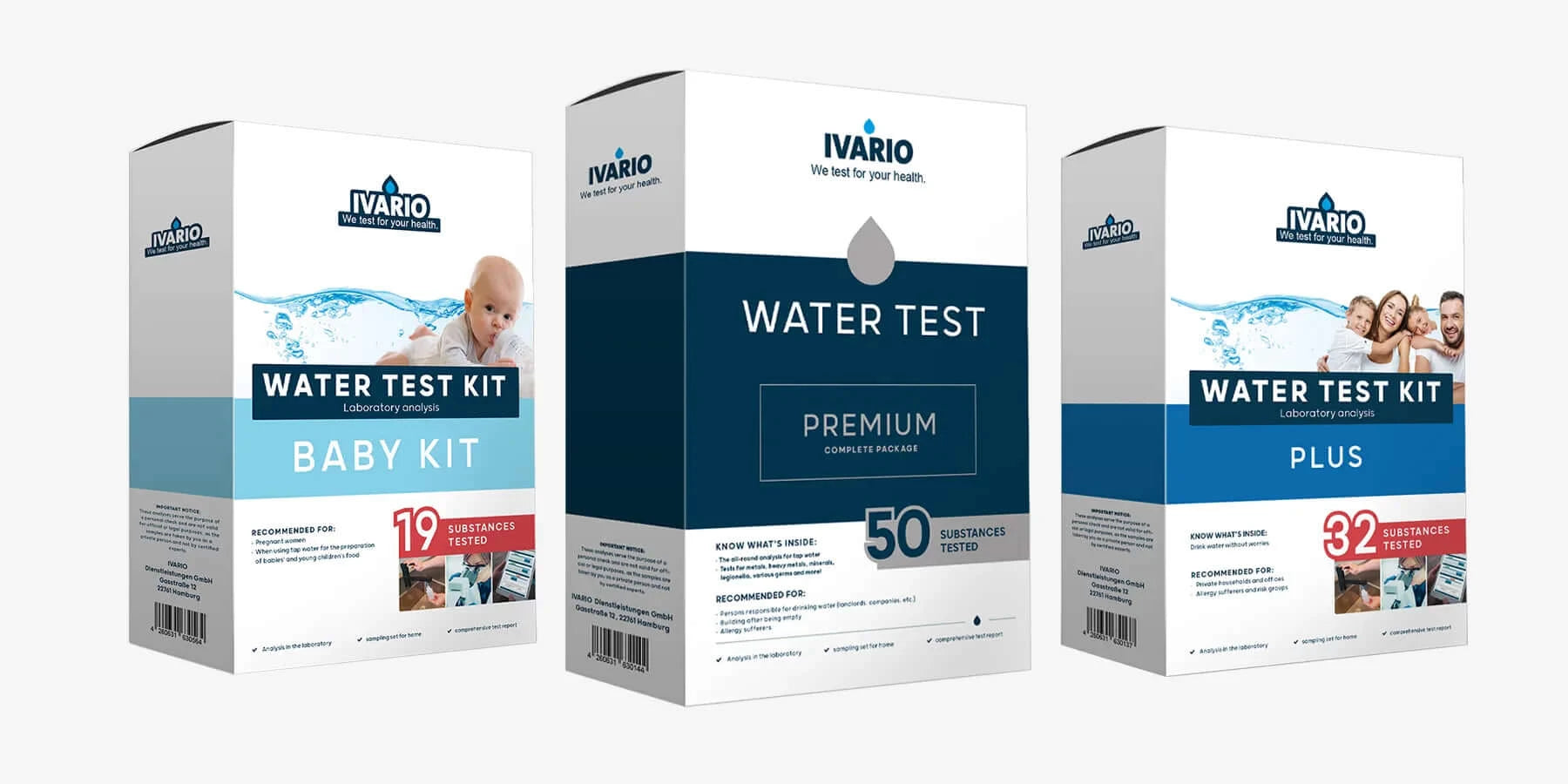 Most popular Lead Water Testing Kits for detecting lead and other heavy metals in your drinking water
IVARIO offers a variety of quality water testing kits to suit your every need. Each water testing kit contains simple instructions on how to collect your sample and includes free return postage from anywhere in the UK to our independent laboratory in Germany.
Water Test Kit | Basic
8 Analytes Tested
Provides an overview of the condition of your household's pipes. Recommended for anyone who wants to check the material and condition of their pipes or to test the water from their coffee machine.
Water Test Kit | Plus
32 Analytes Tested
Testing for 32 potential contaminants, the PLUS is a comprehensive water test checking for a variety of heavy metals and nitrogen compounds. Recommended for, but not limited to, allergy sufferers and those that are chronically ill.
Water Test Kit | Premium
50 Analytes Tested
A comprehensive analysis of the quality of your drinking water, testing for numerous metals, minerals and nitrogen compounds. Recommended for allergy sufferers and landlords, companies, medical practices and other facilities that provide drinking water.
Lead in water - how dangerous is it and how can water become contaminated by lead? IVARIO offers fast laboratory analysis of your drinking water
Lead is a toxic metal that can be found in drinking water and can have serious health effects. The main sources of lead in drinking water are from lead pipes, plumbing fixtures, and solder. When water sits in lead pipes for an extended period of time, like i.e. at night, it can absorb the lead, causing dangerous levels of the metal in the water.
Exposure to lead can have serious health effects, particularly for young children and pregnant women. High levels of lead in the blood can lead to developmental delays, learning difficulties, and behavioural problems. It can also cause anaemia, kidney damage, and high blood pressure. In extreme cases, it can even cause seizures, coma, and death.
One of the most concerning aspects of lead in drinking water is that it is often invisible and tasteless, making it difficult to detect. It is important for individuals to get their water tested for lead and to take steps to reduce their exposure if high levels are found.
Whatever your reason, IVARIO will analyse your water in an independent laboratory and provide you with detailed results quickly and inexpensively, clarifying any potential health threats and to what extent. 
We assure that water testing at IVARIO is easy. It's just 3 steps.
Take Sample
Collect your sample following our easy instructions. No experience necessary.
Send Sample
Return your sample free of charge to our accredited laboratories.
Receive Results
After just a few days, view your detailed results online with expert advice and support.
Drinking water quality in the UK – the supplier's responsibility ends at the house connection
Your water pipes and the tap fitting could potentially be leaking harmful substances into your water. Testing the quality of your tap water - and whether it is contaminated - is therefore necessary. 
Drinking water in the UK is among the best in the world. With millions of tests conducted annually, the quality of British drinking is of the highest standard. Tap water is also the most regulated drink in the UK. In accordance with the UK's drinking water regulations, local water suppliers are obliged to provide tap water that is safe to drink and sometimes test the water several times daily.
However, many consumers aren't aware that in the UK, drinking water supply monitoring ends at the supply pipes to our houses or the consumer's water meter. And it's possible for contaminants to enter your water supply once on your property from environmental factors, water pipes, or tap fittings. 
Toxic heavy metals, such as lead or copper, pathogenic germs or dangerous Legionella can all cause serious illnesses that are often not detected or are treated incorrectly for a long time.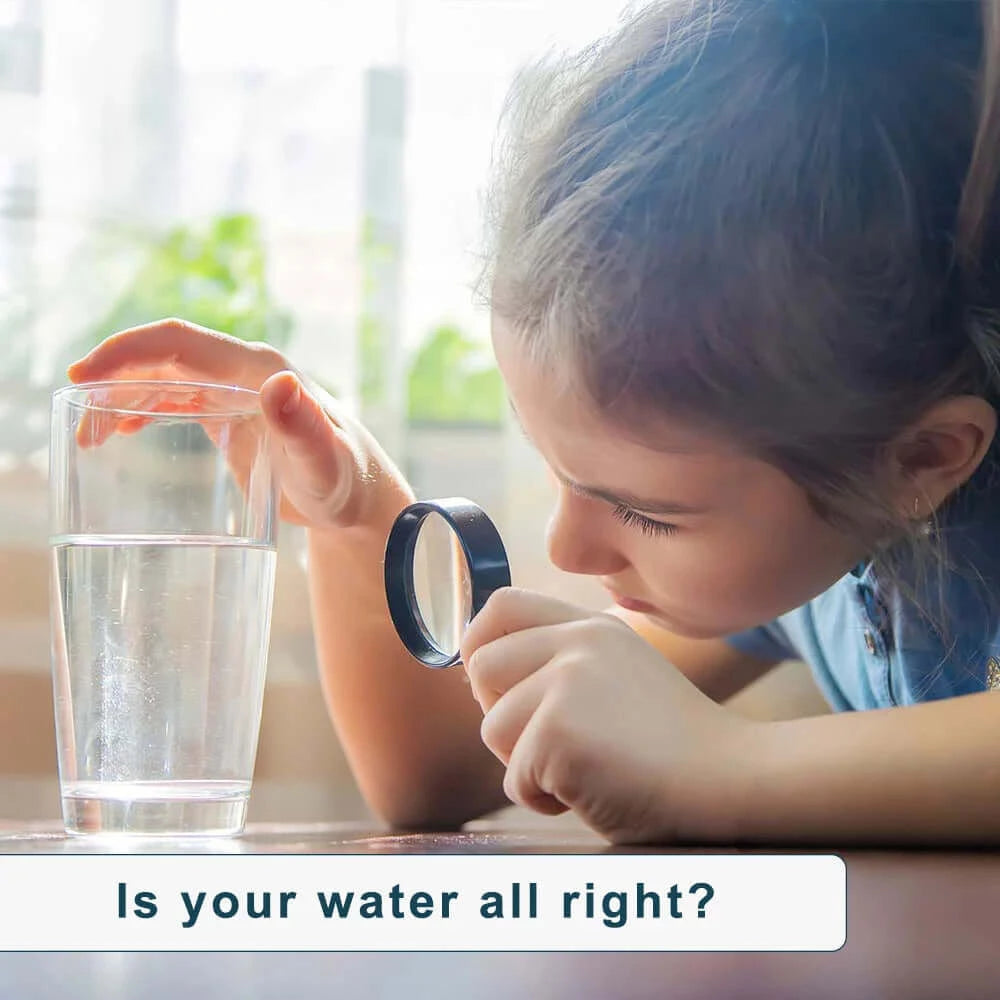 Test the quality of your tap water regularly
Only a water analysis will bring certainty about the state of your drinking water. Whether you're a homeowner or a landlord, it is important to test your water, to not only meet the strict water regulations laid out by the Drinking Water Inspectorate (DWI) but also for the health and well-being of your family.
IVARIO offers you the opportunity to have your tap water tested quickly, easily and for a reasonable price. With IVARIO, you can be sure of the quality of your tap water and drinking water wherever you are in the UK within a short period of time. Simply order the relevant water test kit best suited to your needs, take a sample using the easy instructions and return the sample using our free return postage. Your sample will then be analysed in an independent laboratory in Germany, and the detailed results posted online a few days later. 
Simple. Fast. Reliable. Because your health and safety are our top priority.
How can lead get into your drinking water?
Unfortunately, lead can sometimes be found in drinking water, putting people at risk of exposure. But, how can lead get into drinking water and what can be done to prevent it? And again, lead is a toxic metal that can cause serious health problems, especially in children and pregnant women, so we are in need to prevent it.
Corroded pipes or plumbing fixtures: If you have old pipes or plumbing fixtures made of lead, the water flowing through them can pick up traces of the metal. Over time, the pipes or fixtures may corrode and release more lead into the water.
Lead service lines: Lead service lines are pipes that connect a building to the main water supply. If the service lines are made of lead, the water can pick up lead as it flows through them. This is more common in older homes.
Lead solder: Solder is a material used to join pipes together. In the past, lead solder was used for this purpose. If your home has old plumbing with lead solder, the water can absorb lead from it.
Environmental contamination: Lead can also enter the water supply through environmental contamination. For example, if a factory or landfill releases lead into the environment, it can seep into the groundwater and eventually make its way into the drinking water.
Water Test - Frequently Asked Questions (FAQs)
How does lead get into tap water?
Lead can enter tap water through old lead pipes, lead solder used to join pipes, and faucets or fixtures containing lead.
How can I test my tap water for lead?
You can test your tap water for lead by purchasing a lead testing kit of a certified laboratory. IVARIO offers various water test kits including the analysis of lead contamination.
What are the health effects of lead in tap water?
The health effects of lead in tap water can include damage to the brain, kidneys, and nervous system, as well as developmental problems in children.
What is the maximum amount of lead a body of a human can handle?
There is no known safe level of lead exposure, and the amount of lead that a human body can handle without adverse effects varies based on factors such as age, weight, and overall health. Even low levels of lead exposure can be harmful, particularly for pregnant women and young children, so it is important to reduce lead exposure as much as possible.
WHEN IS TAP WATER TESTING WORTH DOING?
If you have recently moved into a new building or live in an old building, contamination via copper or lead pipes could be cause for concern. If you are pregnant or have a baby/toddler drinking formula, it is important to ensure the quality of your water. If there have been abnormal changes in the water, such as colour, clarity, odour, or taste, it is advisable to test your water. If you use a water filter, bacterial contamination can quickly occur. And having your water tested if there are people who are elderly or have weak immune systems is also important.
HOW IS MY WATER TESTED FOR LEAD?
After our accredited laboratory has received your water sample, it is immediately examined by a specialist using state-of-the-art methods. Inductively coupled plasma mass spectrometry (ICP-MS) determines your water sample's chemical and physical parameters. This analytical technique ensures accuracy and can trace even low concentrations of individual contaminants. For microbiological testing, e.g. for Legionella or E.coli, conventional methods using cultures are used.
WHAT'S IN MY LEAD WATER TEST KIT?
Your IVARIO test kit for detecting lead or other heavy metals will usually contain the following items:

1. Sample bags and containers 2. Illustrated instructions for carrying out the test 3. Delivery note with access code

Please note that some tests may have deviations, such as the premium water analysis. These are explained in more detail in the instructions for the respective tests.
HOW TO SAMPLE THE WATER FOR MY WATER LEAD TEST KIT?
Once you have successfully placed your order, you will receive your personal sampling set. This consists of sterile containers, simple instructions, prepared return material and a collection time to be booked by you. "So you just take the water sample whenever and wherever you want."
What other water test kits does IVARIO offer besides water test kits for lead?
We offer a range of water test kits for other contaminants, such as bacteria, pesticides, and other heavy metals. We also offer testing services for well water and borehole water sources. The most comprehensive water test kit IVARIO's offering is the
WATER TEST KIT PREMIUM
that test for 50 contaminants.
How long does it take to get the results from the lead water test kit?
You'll get the results of your water test within three to fourteen days after your water sample reaches our laboratory. That depends on the water test kit and furthermore, if you choose the standard or the express testing method. Shipping moreover needs up to three days until it reaches the laboratory.
HOW WILL I GET MY RESULTS?
With the exception of the Legionella test, which takes around fourteen days, you will receive the results of your water test within approx. 5 - 7 days. You can view the results online and print them out in the comfort of your own home. If you prefer, you can receive the analysis results by post, free of charge. The individual results are clearly laid out and easy to understand. In addition, we compare your results with the maximum values stated in the Water Supply Regulations so that you can immediately detect potential hazards and risks in your environment. Not only do you find out if your water is contaminated, but you find out to what degree. No science degree required! The results are therefore ideal for submitting to landlords or property managers.
IVARIO is an established company based in Hamburg, Germany, whose mission is to address questions about healthy living spaces simply and for a reasonable price.
As a subsidiary of the renowned GBA lab group, we are part of one of the largest European networks of professional lab services focusing on life sciences. We bring this expertise to our customers' homes in easy-to-use products. Our customers receive high-quality lab analyses of their water tests, asbestos samples or mould tests in the shortest possible time. Thanks to the IVARIO test kits, anyone can quickly, easily, and cost-effectively detect hazards and risks in their environment professionally - without a degree in chemistry.
IVARIO offers:
Easy-to-use test kits.
No experience is required.
Free return packaging on all testing kits.
Fast and professional analysis by specialists in an independent laboratory.
Detailed results are displayed conveniently online.
Expert advice, recommendations and pre-and-post-analysis support.