Water test kits in the UK from the online market leader -
have tap water tested in an independent specialist laboratory
Why it is necessary to test your tap water in the UK?
As the Drinking Water Inspectorate strictly regulates UK drinking water, it is generally of very good quality. It is tested almost daily by the water company in your area before it goes on its long journey to your house pipes. However, the waterworks' responsibility ends at your house connection. From here, you (the owner) or the landlord are responsible for the house's water quality. 
Not only is the quality of your tap water paramount for drinking for hydration, but it is also particularly relevant if you use a water carbonator, such as SodaStream or a coffee machine.
Harmful substances such as lead, copper and nickel can leak into your drinking water through your pipes or, most frequently, the tap fittings. Drinking these harmful toxins can lead to numerous illnesses and diseases. So if you are unsure about the quality of your tap water, you should conduct regular water analyses in a professional laboratory.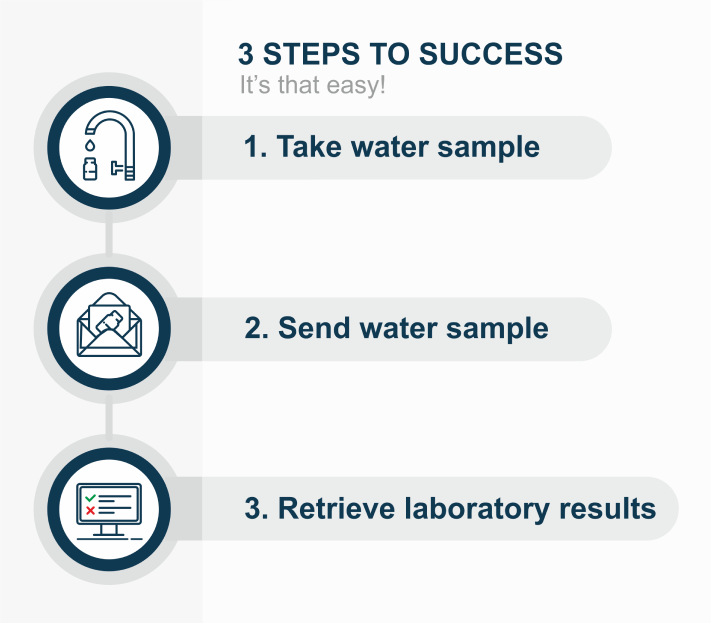 IVARIO water test kits - test your tap water!
Water Testing - Frequently Asked Questions (FAQs)
Take the sample using the simple instructions
Would you like to have your water tested? On the next page you can choose the appropriate water testing kit, for example the Combined Test. After you have ordered, you will receive your own professional test kit. Together with sterile containers and step-by-step instructions, it includes everything you need to send your water sample back, hassle-free.

"You may simply take the water sample when and where you want."
Water testing in an accredited laboratory
Your water sample is in good hands

After you have sent back your sample, one of our accredited water testing laboratories will carry out your chosen test. Our partners for water testing are various groups of laboratories, some of which have more than 23,000 employees working at over 225 locations in 39 countries and using over 150,000 different analytical methods. Your test is truly in good hands.
Your water analysis results - clear and fast
With the exception of the legionella test which takes around fourteen days, you will receive the results of your test within approx. 5 - 7 days. If you prefer, you can receive the analysis results by post, free of charge. You can view the results online and print them out in the comfort of your own home. To keep everything as straightforward as possible, the individual results are clearly laid out. In addition, they are compared with the maximum values stated in the Water Supply Regulations so that you can immediately spot potential threats. Not only do you find out if your water is contaminated, but you find out to what degree. The results are therefore ideal for submitting to landlords or property managers.
When is water testing necessary and how good is drinking water in the UK?
Drinking water in the UK is generally of a very high standard and is tested regularly by water companies before making its way into the consumer's home. However, what most people don't know is that the water companies' responsibility ends at the boundary of the user's property. From here, water quality is the owner's responsibility (mostly the landlord). In the majority of cases, the property owner is not legally required to carry out water testing. Legionella testing is an exception. Old pipes and plumbing systems are not the only factors influencing the quality of tap water, but contamination is most likely to come from taps and fittings. For this reason, the readings given by the water companies don't mean much for the consumer. If you want to know what the quality of your tap water is really like, you should carry out a water analysis in a water testing laboratory!
How is the water analysis carried out?
After you have completed your order, your test kit will be dispatched within 24 hours. It contains everything you need to take the sample. You don't need any special knowledge or experience.

After you have filled the sample bottle, simply use the return kit which we have prepared for you and send your sample straight to the accredited water testing laboratory. Here your water sample will be analysed by specialists, directly and efficiently.